We offer a very wide array of services on consulting, analysis, and project development in strategic domains of the oil field such as geophysics, geology, petrophysics, reservoirs, production, and onshore and offshore facilities.
We develop integrated studies projects of oil and gas reservoirs, identifying and generating exploitation plans with the highest technical and economical added value for our clients. We also run quality control and diagnostic tests coupled with analysis of the information collected in order to optimize the production of reservoirs according to their individual characteristics and properties.
GEOLOGICAL CHARACTERIZATION
Core analysis and description.
Core calibration on wells.
Identifying and interpreting chronostratigraphic units.
Identifying electrofacies, cycles and depositional system.
Identifying vertical barriers in reservoirs.
Interpreting horizons, faults and compartments in reservoirs.
Analyzing the quality of reservoirs based on the net rock thickness, porosity, permeability and fluid saturation.
Performing geochemical analysis of fluid migration and thermal evolution.
Generating 3D geocellular models using geostatistic techniques.
Calculation of hydrocarbons volumes in place using deterministic and stochastic models.
PVT analysis validation.
Equation state adjustment.
Generating rock-fluid interaction models.
Designing and interpreting pressure tests.
Analysis of production and injection performance.
Estimation of production and reserves.
Assessment of strategies for optimizing the production of reservoirs and fields.
Generating exploitation scenarios taking into account the risks and uncertainties involved in the project.
Enhanced oil recovery processes' feasibility studies.
Technological projects' feasibility studies.
Generating integral opportunities in order to improve productivity in oil fields.
Providing our clients with early production and exploitation projects.
Numerical reservoir simulation.
Economical assessment and risk analysis.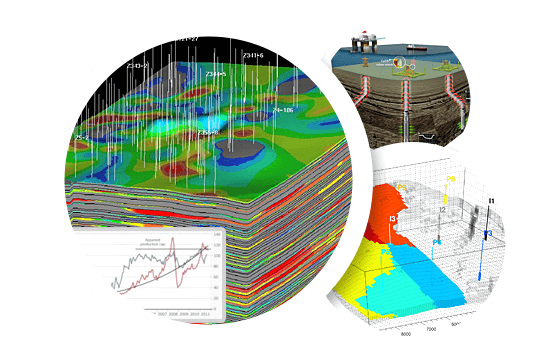 Analysis and diagnostic of workover.
Studies aiming to the improvement of artificial production systems.
Analysis and design of stimulation, fracturing, and perforating for production intervals.
Risk Assessment.
Assessment of the integral system consisting of reservoirs, wells and facilities.
ONSHORE AND OFFSHORE FACILITIES ANALYSIS
Surface networks simulation.
Enhancing of the production operations through the optimization of processes in facilities.
Designing infrastructure projects.
Performing studies for maintenance at wells and surface lines.

 USA
800 Town & Country Blvd.
Suite 300
Houston, TX 77024.Tel: +1 832 431 3063
Fax: +1 832 431 3001
 MÉXICO
Plaza Mallorca, Planta Alta.
Periférico Carlos Pellicer Cámara No. 204. CP: 86035.
Villahermosa, Tabasco. México
Tel: +52 1993 598 3425
info@petrolerfs.com